More than 630 mountain bikers representing 35 countries plus countless officials, volunteers and spectators have descended on Crofton for the BC Bike Race.
"That's bigger than a World Cup," said Brett Tippie, one of the announcers at the event, about the number of countries in the field.
Tippie has done a lot of events both as a competitor and announcer, but this one stands out for him.
"This is my favourite one," he said. "It's so fun.
"The vibe and the people are so friendly and inclusive. They call it the ultimate single track for a reason. It is amazing."
Base camp for the first three nights at the Crofton Ball Fields Monday through Wednesday included rows of tents set up to accommodate the participants as well as facilities for medical and mechanical needs plus portable shower facilities and more.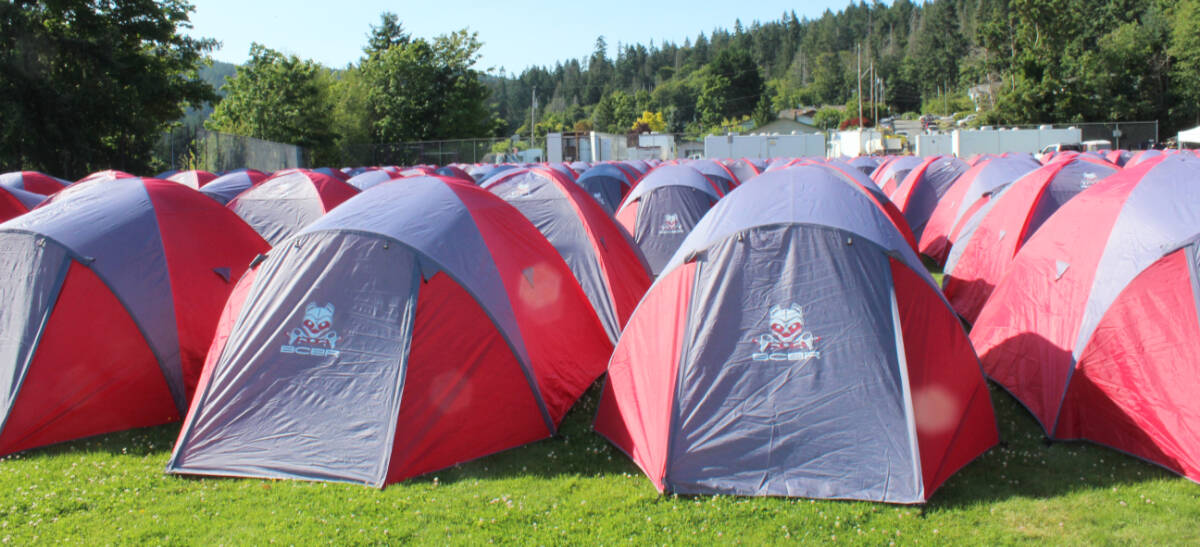 Stage One Monday was the prologue on Maple Mountain, with a total distance of 13.4 kilometres and a chance for the participants to warm up their legs and test out their bodies and equipment for the week ahead.
Stage Two Tuesday had racers starting on the clock at base camp and covering a distance of 39.9 km on Mount Tzouhalem.
Total distance for Stage Three back at Maple Mountain Wednesday is 25.2 km and an elevation of 921 metres, with the entire course on the clock.
The Cowichan Trail Stewardship Society has been grooming and preparing the local trails for the event for months.
Many hours of extra work went into the trails before and after the event to ensure they're in fantastic shape for both the racers and local riders.
The Crofton base camp gets taken down Thursday morning and the scene shifts to Cumberland for the final four nights. Racing for Stage Four is at Nanaimo Thursday, Cumberland Friday, Campbell River Saturday and back to Cumberland Sunday.
A diverse group of riders in the field covers the full range from the ultra competitive to those just enjoying the experience and planning to do their best to finish without any significant goals.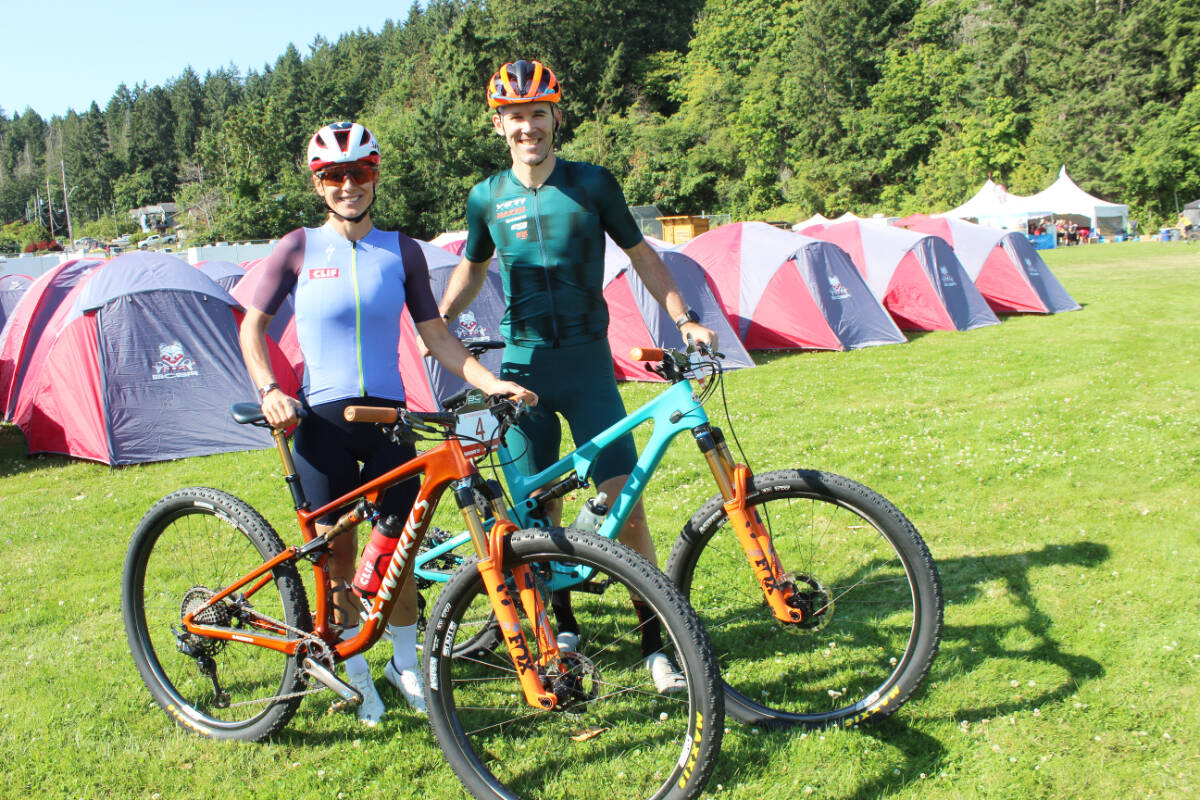 Katerina Nash, 45, originally from the Czech Republic but now living in Truckee, California, is in it to win it.
"Definitely, very competitive," she said of her mindset. "I'm a professional cyclist. I've won the bike race before."
With COVID putting a kibosh on international competitors the last few years, Nash hasn't entered the race since 2019 and is looking forward to returning.
With age always being a factor for the elite in any sport, Nash isn't concerned and has been likened to a former National Hockey League great.
"It's still doable," she reasoned. "Jaromir Jagr is still playing as well. I've been called the Jaromir Jagr of the Czech Republic in cycling."
Nash has been in the BC Bike Race five times previously and always enjoys it.
"It's the best kind of stage race there is as far as trails," she pointed out. "I just really like the terrain B.C. has and the trail network."
Geoff Kabush, 46, lives in Squamish but grew up in Courtenay and looks at this year's race as a homecoming of sorts.
"These are still some of my favourite trails in the world," he said. "To get to do an event here is special.
"It's going to be a super competitive field. We have some of the top Canadians.
"I have to try to use all my skills and experience. I don't quite have the fitness anymore. I have to try to pull out all my tricks to be in the mix anyway."
Kabush marvels at the expansion of the trail network on the Island that didn't exist when he was living here.
"Most of these trails are new since I was a kid," he noted. "It's neat to see you get a special tour of the latest and greatest."
"It's done by mountain bikers for mountain bikers," raved Tippie of the trail network.
As for the event itself, the BC Bike Race is just a great time all-around, he added, thanks to the expertise of the organizers.
"They know how to have a good time and they share that experience."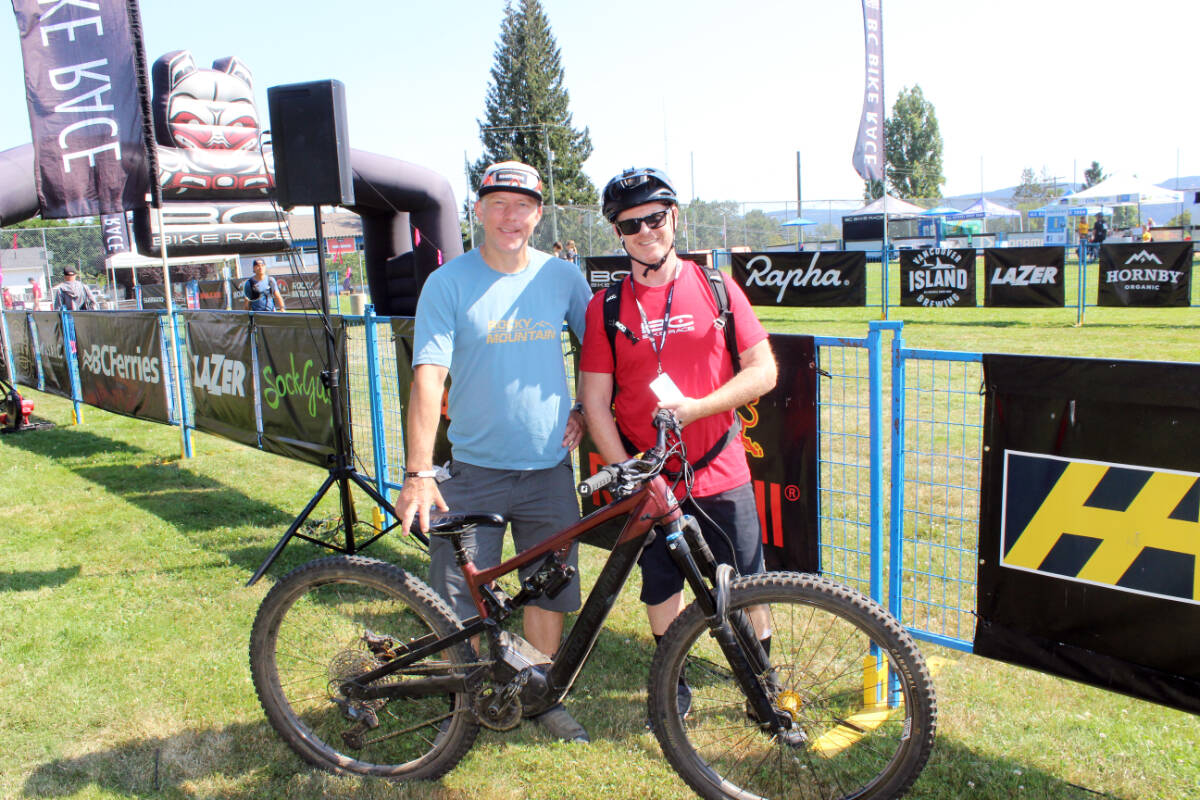 This is exactly how Andreas Hestler, co-founder of the event along with Dean Payne, envisioned it when the event started 17 years ago.
"We had a good vision of putting it on," Hestler said. "I was still racing at that time, but slowing down.
"We both agreed we wanted it to be more fun, not super hard, be single track and be tourism-focused. We wanted to bring the life of the culture. Most of the time we ride with friends and we celebrate with hill-climbing and descending. It's about the camaraderie and hanging out and telling stories.
"Even if you're not going to win, you have the courage to take the start line. You're going to be a better person for challenging yourself."
One of the people fitting into that category is Trevor Meyer of Chemainus, who won an entry for his imaginative video about training for the event. We'll be hearing from him at the conclusion of the event about how it all went.
Much more information about the BC Bike Race can be found
---

don.bodger@chemainusvalleycourier.ca
Like us on Facebook and follow us on Twitter.