Used.ca, the beloved Canadian online marketplace headquartered in Victoria, is celebrating its 20th anniversary! For two decades, Used.ca has connected people in Victoria, Cowichan, Nanaimo and beyond with the secondhand treasures they're searching for, or find appreciative new homes for items they're selling.
Used.ca, formerly known as UsedEverywhere.com, was started by two Vancouver-area entrepreneurs as a safer, more community-minded response to (the mostly unmoderated), Craigslist. In 2006, Black Press Media acquired the growing online classifieds brand and set up the office in downtown Victoria, where it still thrives today with 14 staff members.
Long-time locals will remember the first bootstrap marketing campaigns for UsedVictoria.com around town in the form of telephone pole posters.
Many people don't realize that Used.ca has hyper-local sites in communities right across Canada. Outside of Vancouver Island's sites, the most popular sites are UsedRegina.com, UsedOttawa.com and UsedPEI.com.
Used.ca even has sites in the UK, where the busiest is UsedDudley.co.uk!
In addition to these, Used.ca branched out to providing software as a service (in tech jargon known as "SaaS"). Used.ca is the software behind the New Zealand online classifieds brand PostaNote.co.nz – check it out…the familiar purple has been replaced with bright green.
Used.ca today: The legend continues
Used.ca isn't just a place to buy and sell your pre-loved goods. It's a local legend in the communities it serves, and for good reason. Not only does it make shopping sustainable and affordable, it's also a hub of community support.
Did you know that Used.ca supports more than 200 non-profits and events annually? When you buy and sell with Used.ca, you help make a difference in our local communities. One of the reasons Used.ca is still so popular on Vancouver Island is that Islanders take pride in supporting local brands.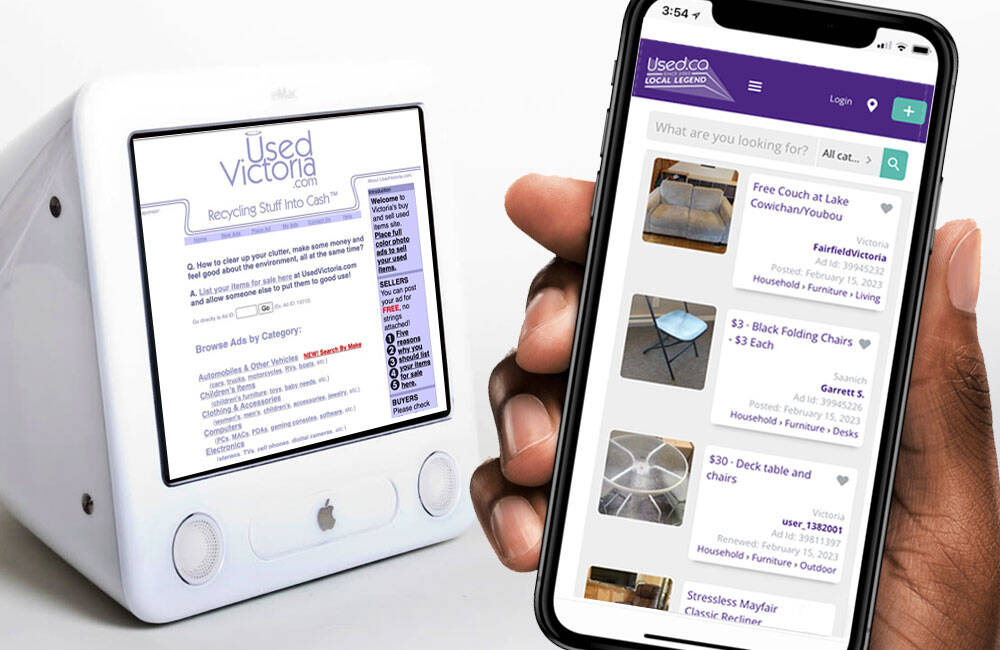 To date, Used.ca has provided a whopping $5 million in marketing support to valuable non-profit local organizations such as BC Children's Hospital Foundation, BC SPCA, Our Place Society, and Habitat for Humanity, to name a few. That's a lot of love and generosity spread around! So, the next time you buy or sell on Used.ca, remember that you're not just supporting local sellers and buyers, you're also contributing to the greater good of our communities.
Have you ever stumbled upon a rare find on Used.ca that made your heart skip a beat? Maybe a vintage record player, a gently used bike, or a quirky piece of home decor? You probably felt a little thrill of excitement as you clicked "contact seller." And why wouldn't you? Shopping on Used.ca is an adventure. You never know what you might find – thousands of items are added daily!
Of course, it's not just the thrill of the hunt that makes Used.ca special. It's also the sense of connection you get when buying or selling something locally – you're not just getting a great deal, you're directly supporting your neighbours.
And it's the ultimate win-win: When you sell on Used.ca, you're not just making a quick buck - you're also decluttering your home while keeping useful items out of the landfill.
So, here's to 20 years of Used.ca! We can't wait to see what treasures and community initiatives the future holds. Happy anniversary to a true Local Legend!
Follow Used.ca on social, including Facebook, Instagram, Twitter and Pinterest, for contests and giveaways all year long.